© Andrea Canter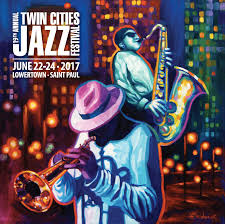 Officially, the 19th annual Twin Cities Jazz Festival launches in and around Mears Park in St Paul on Thursday, June 22, running through June 24, with jazz and more jazz, all of it free, at 27 different venues. Several pre-fest events have already taken place with performances at the Hennepin Avenue United Methodist Church in Minneapolis, Walker West Music Academy, and at several St. Paul libraries. What used to be a preview "Jazz Night Out"–Thursday– is now the first of three afternoons and evenings of nonstop jazz, expected to draw 25-30,000 attendees.  Full schedules, artist bios, and more information can be found on the festival website at www.twincitiesjazzfestival.com. Here on Jazz Police, find information about headliners and some teasers for each festival day.
Headliners, June 22
5pm, Oskar Stenmark. Cosponsored by the American Swedish Institute, trumpeter/flugelhorn player Oskar Stenmark is a native of Gotheburg, Sweden, now based in New York City. His unique compositional approach, combining traditional Swedish melodies with the jazz sensibility of his adopted home, is bringing him international attention, as have his appearances with the Maria Schneider Orchestra, Chris Potter and Dave Liebman. A year ago, Stenmark completed his Master's Degree in Jazz Performance and Composition from the Manhattan School of Music, and leads his own trio, quartet and octet.  5 pm, Securian Main Stage in Mears Park.
6:30 pm, Emmet Cohen Trio.  Still in his late twenties with degrees from the University of Miami Frost School of Music and Manhattan School of Music (MA), Emmet Cohen has garnered growing attention since 2011 when he was a finalist in the Monk International Piano Competition and Cole Porter Fellowship Competition, won the Phillips Piano Competition, and released his self-produced debut recording, In the Element, with bassist Joe Sanders and drummer Rodney Green. He raised his profile even further, winning the American Jazz Pianists Competition in 2014 and again placing as a finalist in the Cole Porter Fellowship competion in 2015. He also co-led the recording Questioned Answer (2014, Hollistic MusicWorks) with Grammy Award-winning trumpeter Brian Lynch, and recorded with Herlin Riley's group on New Direction (2016, Mack Avenue), albums that showcased Cohen's ability to play incredibly nimble and nuanced lines without sounding overly busy or abstruse.
With his Masters Legacy Series, Cohen has set out to collaborate with jazz's living legends, starting with Miles Davis' former drummer, the esteemed Jimmy Cobb. Talk of a project with saxophonist Jimmy Heath is in the works. In addition to performing with Christian McBride's new group, Cohen is also a member of the Ali Jackson Trio and Herlin Riley Trio. And despite his youth, Emmet is already heavily immersed in jazz education. An alumnus of the YoungArts Foundation, he now produces and directs multidisciplinary high school YoungArts programs nationally, including creative writing, theater, dance, visual arts, cinematography, music, voice, and jazz; Cohen keeps busy designing student curricula and selecting master artists as teachers and mentors. He also visits 50 schools yearly through Jazz at Lincoln Center's "Jazz for Young People" program and regularly presents jazz history and performance lectures. Cohen won over a number of Twin Cities fans in March 2017 when he performed with Brian Lynch in the Dunsmore Room of Crooners Lounge and two nights with his trio at Jazz Central. (See more about Emmet Cohen on Jazz Police!) 6:30 pm, Securian Main Stage at Mears Park
8:00 pm, Terence Blanchard and the E-Collective (free clinic, 2 pm at McNally Smith). Few jazz musicians have received Grammy, Emmy and Golden Globe Awards. Trumpeter/ composer and five-time Grammy winner Terence Blanchard's resume also includes tenure with Art Blakey's Jazz Messengers, scoring films for Spike Lee, and a long list of acclaimed recordings, including his Grammy-winning requiem for Hurricane Katrina, A Tale of God's Will. DownBeat Artist of the Year in 2000, former Artistic Director of the Thelonious Monk Institute in New Orleans, and now Artistic Director of the Henry Mancini Institute at the University of Miami and Visiting Scholar at the Berklee College of Music.
Blanchard's E-Collective explores the intersection of jazz, R&B, funk and jazz fusion. He describes this fresh, plugged-in project as an outlet to satisfy a yearning he's had for years to explore areas of music that he's always loved but never ventured into, with a band made up of musicians who truly stand at the vanguard of today's jazz. In May 2015, the band released its first recording, Breathless (Blue Note). Among the 13 tracks are  several Blanchard originals, an epic-length piece by Almazan ("Everglades"), and a handful of covers, sung by soothing and soulful vocalist PJ Morton (a member of the band Maroon 5). Blanchard's son, T. Oliver Blanchard Jr., aka JRei Oliver, contributes one composition and spoken-word excerpts on others. Joining Blanchard in the E-Collective will be highly regarded pianist Fabian Almazan, guitarist Charles Altura, bassist Donald Ramsey, and drummer Oscar Seaton. The band most recently appeared in the Twin Cities last January at the Dakota, part of a live recording series in three cities (Minneapolis, Dallas, Cleveland) scarred by the escalation of tension between law enforcement and unarmed African Americans, Caravan.  Today, Blanchard will present a free clinic at McNally Smith College of Music at 2 pm. 8 pm, Securian Main Stage at Mears Park.
Other Options, Other Venues
More festival performances on June 22 include:
4:00 pm, Mac Santiago Quintet at the Black Dog
6:00 pm, Jon Weber at Vieux Carre'
6:00 pm, Pippi Ardennia (Makers Mark Stage)
7:30 pm, Connie Evingson (Makers Mark Stage)
7:30 pm, Mary Louise Knutson Trio at Vieux Carre'
8:30 pm, Arne Fogel, Maud Hixson with the Wolverines at Mancini's
10/11:30 pm, Zacc Harris Group at the Black Dog
….and many more. See full schedule, bios, and more information at www.twincitiesjazzfestival.com and pick up a hard copy schedule at fest venues and throughout Mears Park.