© Andrea Canter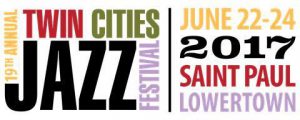 Twin Cities Jazz Festival Director Steve Heckler announced four headliners for the free 19th annual festival, to be held in and near Mears Park in St. Paul, June 22-24. The last surviving member of the classic John Coltrane Quartet, pianist McCoy Tyner heads an impressive list of artists to perform on the main stage at Mears Park, including multi-Grammy-winning trumpeter Terence Blanchard, poll-topping clarinetist Anat Cohen, and native son and keyboard giant, Bobby Lyle. Additional headline acts as well as the usual long list of local and regional performers will be announced soon. The Twin Cities Jazz Festival typically draws 30,000 to the heart of St. Paul every summer.
Pianist McCoy Tyner (June 24) is one of the working legends of his generation, an artist whose long and diverse career spans the heyday of bop, the emergence of Coltrane, and the evolution of the complex structures that are hallmarks of modern jazz. His percussive attack, orchestral voicings, and modal harmonies have influenced several generations of musicians, and his ongoing work exemplifies the life of a creative artist constantly seeking to grow and respond. A native of Philadelphia, young Tyner's interest in bop was galvanized by early encounters with musicians in the neighborhood, including Bud Powell, Lee Morgan, Archie Shepp, Bobby Timmons, and Reggie Workman. Other early influences included classical composers such as Stravinsky and Debussy, as well as Duke Ellington, Art Tatum, and Thelonious Monk, whose percussive style would leave an indelible imprint on Tyner. As a teenager, Tyner played regularly at the Red Rooster, where, at age 17, he worked with fellow Philadelphian John Coltrane. Sax virtuoso Benny Golson first brought the young pianist to New York to join forces with Art Farmer in the first edition of the Jazztet. In 1960, when Coltrane left Miles Davis to form his own band, he hired Tyner and formed what many believe to be one of the greatest quartets in jazz, with Jimmy Garrison and Elvin Jones.
Tyner refused to follow the trend toward electronic music in the 60s, remaining productive on acoustic piano for the following four + decades across a broad range of groupings and styles, from solo and trio to big band, from inventive post bop to compositions embracing African and Latin themes. He has continued to tour and record, earning four Grammies; he was honored as an NEA Jazz Master in 2002, and in 2008 received the Presidential Merit Award from the Grammy Foundation. In 2016, tribute concerts honoring Tyner's five-decade career were held in Chicago, San Francisco and in France, continuing now in 2017. Tyner, now 78, was most recently in the Twin Cities last October, with his quartet at the Dakota.
Five-time Grammy-winning trumpeter Terence Blanchard (June 22) helped launch the 2016-17 JazzMN Orchestra season last fall with a sold-out concert at The Ordway, returning to the Dakota in January 2017. A native of New Orleans, he attended high school at the New Orleans Center of Creative Arts, where he studied with Ellis Marsalis and Roger Dickerson, and was a classmate of saxophonist Donald Harrison. After graduation, he enrolled at Rutgers University on a music scholarship, and soon was booked on a tour with Lionel Hampton. His big break came in 1983 when Wynton Marsalis recommended him as his replacement in Art Blakey's Jazz Messengers. Known for his mentoring and shaping of young talents, Blakey not only gave Blanchard his big start as a performer but served as a role model as bandleader and mentor, roles that Blanchard champions today. After two years with Blakey, Blanchard and former classmate/fellow Messenger Donald Harrison moved on to form their own quintet, earning the prestigious French Grand Prix du Disque. Blanchard went on to lead more award-winning ensembles including his recent editions of his quartet and the E-Collective, a fusiony quintet.
Collaboration with film producer Spike Lee led to Blanchard's scoring of the Grammy-nominated film, Mo Better Blues (1990); Terence has since composed a long list of film and television soundtracks that have earned Grammy and Oscar nominations, and Emmy and a Golden Globe Awards. His score for the Broadway production of The Motherf**With a Hat (2011) earned six Tony nominations. A devoted educator, Blanchard served more than ten years as Artistic Director of the Thelonious Monk Institute of Jazz, and is now Artistic Director of the Henry Mancini Institute at the University of Miami and Visiting Scholar at the Berklee College of Music.  In recent years, Blanchard has served both the Monterey and Detroit Jazz Festivals as Artist in Residence, and currently serves as the Jazz Chair for the Detroit Symphony Orchestra's jazz concert series.
Anat Cohen (June 23) is one of the most significant figures in modern jazz, and the face of jazz clarinet in the 21st century.  Over the past decade, the Berklee-trained, New York-based Israeli native has transformed the clarinet and its repertoire from its roots in Dixieland and Swing to a fully modern and leading voice. Growing up in Tel Aviv, Anat began clarinet studies at 12, and by 16 was playing in the Jaffa Conservatory's Dixieland band and taking up tenor saxophone in the school's big band.  She moved on to the Thelma Yelin High School for the Arts to concentrate on jazz. She completed her military obligations after high school graduation, playing tenor saxophone in the Israeli Air Force band. Following her discharge in 1996, Anat came to Boston to study at the Berklee College of Music, where Phil Wilson encouraged her to play clarinet. During her Berklee years, she continued on both instruments, exploring a wide range of jazz that continues to be a hallmark of her career. Anat played with Sherrie Maricle's Diva Jazz Orchestra before finishing studies at Berklee, and once in New York, worked with Brazilian ensembles including Duduka Da Fonseca's Samba Jazz Quintet. With her own bands, she became the first female reed player and first Israeli musician to headline at the Village Vanguard.  Her repertoire included the music of Louis Armstrong, Fats Waller, Benny Goodman, John Coltrane, Ernesto Lecuona, even Sam Cooke. On her acclaimed 2015 release, Luminosa, Anat highlighted her growing affinity for Brazilian folk traditions filtered through modern jazz improvisation, bringing together her core quartet with her Choro Aventuroso (adding accordion, 7-string guitar and pandeiro), the ensemble that will join her at the Twin Cities Jazz Festival. She followed with Alegria da Casa with her Trio Brasileiro in 2016. Anat also appears with her brothers Avishai (trumpet) and Yuvel (soprano sax) on four recordings as The Three Cohens.
Although Bobby Lyle (June 24) was born in Memphis, he moved to Minneapolis as a youngster and the Twin Cities has long claimed him as a native son. Influenced primarily by Oscar Peterson, Ahmad Jamal, Bill Evans, Erroll Garner, and Art Tatum, Bobby was burning up pianos and Hammond B3s as early as age 13, soon gigging in Twin Cities clubs that couldn't yet serve him. Enrolled at Macalester College for two years where he studied piano, Bobby eventually quit college and went on the road with Red Holt and Eldee Young. After working for a short time with Jimi Hendrix, he toured with Sly and the Family Stone and Ronnie Laws, then joined forces with George Benson. He later toured with and served as Music Director for Al Jarreau, Bette Midler, and Anita Baker. Three decades into a prolific career as composer, arranger, bandleader, and recording artist of fusion as well as straight-ahead, Lyle released Straight and Smooth (Three Keys) in 2004 as an overt declaration of his dual keyboard personality. And with this release, Bobby became the first artist to ever chart on both the Billboard Contemporary Jazz Chart and the Straight Ahead Jazz Chart.  in 2013 Bobby released his first Hammond B-3 organ CD, The Way I Feel—a tribute to the late, great Jimmy Smith and guitarist Wes Montgomery on his own label (New Warrior Music). In 2014 Lyle, in association with smooth jazz radio personality Guy Michaels, launched Houston's first ever TV Jazz Show called The J-Spot. These days Bobby continues touring, arranging and composing, as well as teaching at the Houston Summer Jazz Workshop and as a touring clinician and private instructor. He's been a frequent visitor to the Twin Cities in recent years, including gigs at the Dakota and Dunsmore Room at Crooners Lounge, most recently in late 2016.
For more information about festival artists, stages, scheduling and more, visit the festival website at www.twincitiesjazzfestival.com