2019 Headliners
James Carter
In the early 90s, Detroit-born reedman Carter announced his arrival on the jazz scene in a big way, not only for the virtuosic playing on his debut JC On The Set (1993), but for the ease in which he and his group switched musical direction on stage. His working quartet at the time, which included Minnesota's own Craig Taborn on piano, could get nestled into a tender ballad one moment, and lost in an audacious, combustible force the next. In the ensuing years, Carter, now 50, would release nearly 20 more recordings, from the Django Reinhardt inspired Chasing The Gypsy (2000), to the adventurous open-ended all-star group found on the live Heaven On Earth (2009). Carter's current touring vehicle is his decade-plus association with fellow Motor City jazz veterans Hammond B-3 Organist Gerald Gibbs, and drummer Leonard King, Jr. To date, the Organ trio have released three recordings which neatly summarize the musical amalgamation that is Carter; hard-grooving, steeped in tradition, yet furiously idiosyncratic.
Lean On Me: José James Celebrates Bill Withers
Billing: Lean On Me: José James Celebrates Bill Withers

Minneapolis born, New York-based singer James defies convenient categorization as a quick listen to any of the nine full-length titles released since his 2008 debut The Dreamer might suggest. Instead James' recordings suggest a restless spirit equally interested in paying homage to his influences, as he is in forging a new path by introducing disparate elements of hip-hop, neo-soul, and classic funk. From covering Rahsaan Roland Kirk on his debut, to 2015's tribute to Billie Holiday Yesterday I Had The Blues, to last year's Bill Withers inspired Lean On Me, James does not merely interpret the material, but infuses his own musical stamp on it. Regardless of stylistic choice, James is a smooth baritone with great musical intuition and taste, able to deliver a vocal in a manner that manages to be simultaneously intense and intimate, harrowing without being cloying, and always provocative.
Nnenna Freelon
Six time GRAMMY Award nominee, vocalist Freelon received her first major musical break when pianist Ellis Marsalis recommended her to Columbia Records after working with her in the early 90s, leading to her self-titled debut in 1992. Since that time, the smooth-toned Freelon has gone on to become one of the most consistently respected singers of the past 25 years, releasing a dozen critically acclaimed recordings including 1993's ballad driven Heritage, 2000's gospel-influenced Soul Call, and 2002's daring Songs of Wonder, a tribute to the inimitable Stevie Wonder. Freelon is also no stranger to theatre and film, including being featured writer, composer and producer of The Clothesline Muse, a multidisciplinary production that incorporates elements of music, art and spoken word.
Grace Kelly
Teen prodigies have been infiltrating the jazz scene for years, including the likes of Miles Davis and Lee Morgan, yet, the New England-born alto saxophonist/singer Kelly's debut was released when she was 12 years old. Before she was out of her teens, Kelly co-lead sessions with alto nonpareils Lee Konitz (2008's Gracefullee) and Phil Woods (2011's Man With The Hat), more than holding her own with these titans. Now in her mid-20s, Kelly continues rapid ascension, recording over a dozen albums under her own name, and appearing regularly on the house band of The Late Show With Steven Colbert, under the leadership of Jon Batiste. Kelly's most recent projects, Go Time: Brooklyn Volumes 1 & 2 find the young saxophonist reconciling her love of traditional jazz with her desire to reach larger audiences through an ambitious hybrid of high-energy pop, funk and electronics, replete with upbeat visual elements incorporating dance and choreography. The seemingly tireless Kelly has also composed numerous acclaimed scores for television, film and documentaries, including 2014's The Sound Of Redemption: The Frank Morgan Story, a less heralded, but no less important influence on her alto playing.
Yogev Shetrit
Israeli composer/drummer Yogev Shetrit has been active on the world fusion music scene for the past twenty years, the majority of which was spent in the funk and hip-hop ensemble Coolooloosh, which received international exposure by extensive tours all over the world. In addition, Shetrit worked primarily as a sideman, recording numerous sessions and performing extensively in collaboration with traditional Israeli ensembles. Shetrit also had an opportunity to work with Cuban piano legend Chuchito Valdez's ensemble when he toured Israel. In addition, he played with Tia Fuller, Kevin Mahogany, Paulo Morello and others. More recently, Shetrit chose to focus on his own compositions, finally forming his own trio in 2015, with Stav Goldberg on piano and Noam Tanzer on bass, Shetrit recorded his first studio album as a bandleader and composer in 2016. The album, titled "New Path", was launched in September 2016 and since then, the Yogev Shetrit trio has toured all over the world in many Festivals and clubs.The "New Path" project contains instrumental pieces composed, arranged and produced by Shetrit. He elegantly fuses traditional North African music, Gnawa, Andalusian music from his Moroccan heritage, along with contemporary jazz, Jewish and Mediterranean music.
Aurora Nealand with Tom McDermott
Back by popular demand after their stellar performance at last year's Twin Cities Jazz Festival, Saxophonist, clarinetist and vocalist Aurora Nealand has become a prominent force within the New Orleans jazz community since arriving in 2005. While most recognized for fronting her traditional jazz band, The Royal Roses, the musically restless Nealand is involved in numerous other projects, including a rockabilly group, her solo project The Monocle, and endeavors in the improvisational music scene. Her five recordings as a leader suggest a playful, versatile musician that wishes to celebrate the past, while also keeping a keen eye on the future. One of the Crescent City's most revered and sought after pianists since making it his home in the mid-1980s; Tom McDermott has been a prolific purveyor of the New Orleans sound, having recorded nearly 20 recordings under his name. A thoroughly entertaining pianist steeped in tradition, McDermott is equally comfortable playing the music of Jelly Roll Morton or one of his own crafty compositions, which draw on his dazzling dexterity and innate sense of swing.
Mayito Rivera with Charanga Tropical
Cuban singer Mayito Rivera will be making a rare North American appearance with Twin Cities-based 11-piece ensemble Charanga Tropical, lead by saxophonist/flautist and composer Doug Little. Rivera is perhaps best known for the 20 years he fronted Los Van Van, one of Cuban's most acclaimed and recognizable salsa bands. Since leaving that ensemble, Rivera has spent the better part of the last decade focusing on his solo career, whether performing traditional bolero or son music, or his own compositions emphasizing upbeat rumba rhythms. Charanga Tropical's repertoire typically draws from famed Cuban composers like Cachao Lopez and Orestes Lopez, as well as the Great American Songbook. Their unique approach to the traditional Danzon music, an invigorating blend of tango and Cuban grooves has drawn accolades throughout tours of the Midwest for over a decade.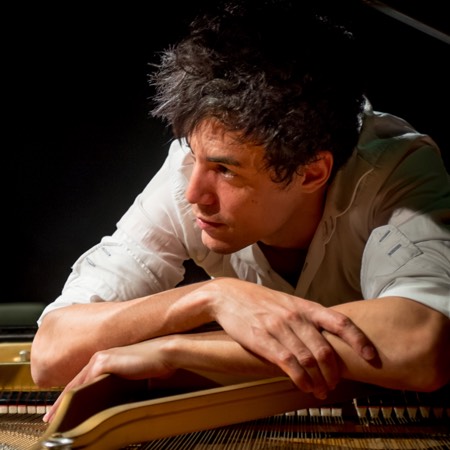 Jorge Luis Pacheco
Representing the vanguard of the younger generation of modern Cuban jazz, Havana native and pianist Jorge Luis Pacheco has received plenty of critical acclaim over the past decade, including at the International Piano Competition in Montreux Switzerland in 2014. Pacheco's charismatic blend of traditional Cuban music, with the more extroverted extrapolations of forward thinking Cuban jazz has won over fans around the globe. To date, Pacheco has recorded 3 sessions as a leader, each of which demonstrates his fiery technique and dizzying dexterity.
Bob DeFlores
Bob DeFlores grew up in Hollywood immersed in showbiz culture--his parents were actors who appeared in film, on radio and in nightclubs. Bob began collecting and restoring films in 1953, initially as a hobby. Eventually he quit his job as an art director for a Minneapolis architectural firm to devote all of his time to researching and preserving films. Over the years, he amassed a library of over 6,000 works, including rare newsreels, cartoon shorts, sports footage, full-length features, and jazz and big band material. Among his rarest finds are the only known prints of Outside the Law with Lon Chaney (1921), Fatal Marriage with Lillian Gish (1916, originally titled Enoch Arden), and Song O'My Heart with tenor John McCormack (1930). But Bob's focus is early jazz and big band films, and particularly films of Bing Crosby. His collection includes rare prints of Please (1933), The Fifth Freedom (1951), and Here Is My Heart (1934). Bob developed a personal relationship with Bing, providing him with copies of rare, assumed lost films; in exchange, Bing allowed Bob to borrow and copy materials from his private film vault. In addition to his years as a collector, Bob has put together film programs for hundreds of organization, lectures on film preservation at schools, and has assisted television stations assemble documentaries, tributes and special broadcasts, including Minneapolis in 19 Minutes and Ken Burns' Jazz and Unforgiveable Blackness: The Rise and Fall of Jack Johnson. He supplies the Grammy Awards and Kennedy Center Honors with rare footage.
VIP Experience