© Andrea Canter
The third season of Jazz in the Target Atrium, curated by Jeremy Walker, continues on Friday, February 17 (8 pm) when the Atrium Jazz Ensemble tackles Duke Ellington's landmark recording, Money Jungle. The trio led by pianist Bryan Nichols with bassist Jeffrey Bailey and drummer JT Bates revisits the 1962 classic originally performed by Ellington, Charles Mingus and Max Roach. The concert takes place in the intimate space of the Target Atrium of Orchestra Hall.
Money Jungle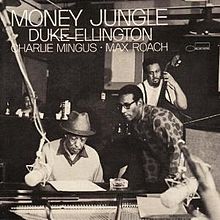 Like many of Ellington's recordings, Money Jungle has inspired hundreds of musicians and stands as witness to confrontation, uncompromising individualism, and rich beauty. Even the title suggests a kind of critique on "selling out" to make your path through the modern urban jungle. One of the challenges of the original recording sessions was the generation gap among the three musicians, with Ellington significantly older than Mingus and Roach and reflecting a very different style of playing, differences that led to an argument and Mingus leaving the studio mid-session. The original LP on United Artists Jazz included six Ellington compositions ("Money Jungle," Fleurette Africaine," "Very Special," "Warm Valley," "Wig Wise," and "Solitude"), along with "Caravan," composed by Ellington's trombonist, Juan Tizol. Later reissues on LP and CD added additional material.
Atrium Jazz Ensemble
Bryan Nichols studied classical piano with a "neighborhood piano teacher" but came to jazz on his own, developing his skills without formal jazz studies. He did participate in the Minnesota Institute for Talented Youth (MITY) summer jazz program where he worked with veteran piano teacher Denny Malmberg, and after studying genetics at Iowa State University, moved to Chicago where he performed with Corey Wilkes, Maurice Brown, Jeff Parker, Nicole Mitchell, Von Freeman, Ari Brown, Hamid Drake and Ernest Dawkins. Back in the Twin Cities in 2005 after his residency in Betty Carter's Jazz Ahead program, Bryan quickly became a favorite pianist among the more forwarding-spinning jazz ensembles, working with the Kelly Rossum, James Buckley, and Chris Morrisey, and later with the Zacc Harris Quartet, Gang Font, Todd Clouser, Adam Linz, JT and Chris Bates, and the Minneapolis/Chicago collective, City of Fiction, and Jeremy Walker's Atrium Jazz Ensemble.  In 2009, he received a grant from the American Composers Forum, and in 2010, a fellowship from the McKnight Foundation. Bryan has been a frequent weekend performer in duos at the Icehouse, often with bassist James Buckley, appears with Chris and JT Bates as Nichols/Bates/Bates, and leads his trio, quartet, quintet, and nonet (We Are Many). Now with his quintet (Bright Places) and solo (Looking North) recordings behind him, he hopes to record with his trio in the near future. He was a featured solo artist this season on the Jazz at Studio Z series. Bryan teaches at the MacPhail Center for Music and at the University of Minnesota-Morris.
Bassist Jeffrey Bailey has performed in a wide variety of musical settings as a musician, composer, and producer. He has performed with world-renowned jazz artists Captain Jack McDuff, Craig Taborn, James Carter, Nachito Herrera, Eric Kamau Gravatt, Rodney Jones, Dave King, Brian Lynch, Wessel Anderson, Peruvian guitar master Andrés Prado, and James Moody. An eclectic talent, Jeff has also toured and performed with Keri Noble, Joey McIntyre (NKOTB), Tommy Barbarella (Prince), Charles Lazarus (Minnesota Orchestra), Reverend Billy Steele, Jennifer Kimball, Heather Headley, and Charley Drayton. He has also produced a Minnesota Music Award-winning CD for Alicia Wiley, receiving a Best of the Twin Cities Award as a founding member of Moveable Feast, and a Minnesota Music Award nomination for Bass Player of the Year. Locally, Jeff has performed with Doug Little, Mississippi, and the Atrium Jazz Ensemble since its first season. Currently he teaches at McNally Smith College of Music.
J.T. Bates is one of the busiest drummers in the Twin Cities, on and off the bandstand. He was a member of Motion Poets and has worked with a variety of Latin, electronic, and experimental ensembles, including Bryan Nichols' Quintet and Trio, Chris Bates' Red Five, Fat Kid Wednesdays, the Zacc Harris Group, Atrium Jazz Ensemble, and The Pines. About a year ago, JT launched a new project, a B-3 organ trio dubbed Grain. In addition to curating his Jazz Implosion series on Monday nights at the Icehouse, JT often appears on the Icehouse stage with such musicians as brother Chris, Dave King, Brandon Wozniak and more. Noted Richard Brody in The New Yorker, "In free rhythm, his shimmering cymbals recall Sunny Murray's work with Ayler; the tom-tom groove is like the one Ed Blackwell got with Coleman; and, when he plays on an ethereally introverted modernistic piece, he sounds like a one-man Art Ensemble of Chicago, ready to use anything for the right sound—chopsticks, chains, his hands, and even the nub of a drumstick, which he rubs on cymbals to make them whisper as if butterflies were beating their wings upon them."
Limited seating remains for this concert – contact the Minnesota Orchestra Box Office at 612-371-5656 for availability. Orchestra Hall is located at 1111 Nicollet Mall in downtown Minneapolis. The final Jazz in the Target Atrium concert of the season, "When Duke Met Coltrane," takes place on April 28; limited availability.