© Jon Morgan
Having just returned from a West Coast tour with the potent Ravi Coltrane Quartet, Brooklyn-based pianist Glenn Zaleski is embarking on his own roadtrip. On Monday, May 8, he makes a stop at the Dunsmore Room in support of his new trio release, Fellowship (Sunnyside Records). In between, the young pianist stopped off at home in order to play over half a dozen gigs in and around New York with an equal number of different leaders. Such is the life of an in-demand talent, gifted with the all-too elusive pairing of versatility and a distinctive sound.
For some musicians, the sheer number of gigs with a large number of leaders playing contrasting styles might cause role-confusion or creative bewilderment, but Zaleski insists that is not the case. "There is a thread that connects all the people and projects I play with," he explains. "Whether it is with Ravi Coltrane, bassist/vocalist Katie Thiroux or guitarist Rafal Sarnecki, as much as these are seemingly disparate styles, they are all connected, and my role within each is kind of similar in that they are all fundamentally jazz music. The key for me is that each project still allows me to improvise and play spontaneously and each leader is committed to the spirit of really going for it."
Zaleski originally moved to New York ten years ago in order to complete his undergraduate studies at the New School, following a fellowship at the Brubeck Institute in Stockton, CA. While working on his graduate degree at New York University, Zaleski began to make a name for himself as a pianist to be reckoned with, and started to work with many like-minded musicians with whom he still plays or records with frequently, such as Melissa Aldana, Lucas Pino, Ari Hoenig, Steven Lugerner, and Noah Preminger, appearing on over 30 recordings in the past decade.
As a co-leader, the self-released Duet Suite pairs him with his reed-playing brother Mark. He also makes up one-third of the collective Stranahan/Zaleski/Rosato (with drummer Colin Stranahan and bassist Rick Rosato), which has released two critically well-received recordings on the Capri label. The trio still plays together whenever possible, but probably less frequently than they would like: "When you have a band that is personnel-specific, it is sometimes really hard to coordinate schedules, especially if you are playing with players that are in demand," Zaleski points out. "Not many people have the luxury of booking the same band or project exclusively."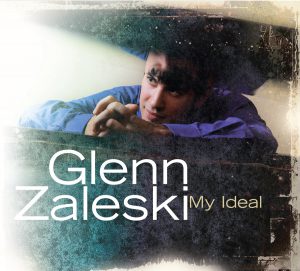 For both of Zaleski's dates as a leader on Sunnyside, he has enlisted the equally remarkable rhythm section of bassist Dezron Douglas and drummer Craig Weinrib. The first, 2015's My Ideal, finds the trio deconstructing a series of standards, somehow finding new terrain in familiar tunes. The trio's take on "Body and Soul" is indicative of their approach, which in this case is the opposite of Coleman Hawkin's famed version from 1939. Where the saxophonist stated the melody initially and did not return for the remaining three minutes, Zaleski and company improvise for five full minutes before ending the piece with the melodic statement.
Another intriguing stylistic decision contained in My Ideal is Zaleski's opting to perform two tunes written by contemporaries, Rick Rosato's "Waltz for MD" and Peter Schlamb's "Rel." "I always wondered why other musician's aren't playing some of these great songs being written by their colleagues," Zaleski questions.  "I wanted to put those tunes in there because I feel like these songs should become new standards. When Bill Evans recorded Gigi Gryce's "Minority" or Miles Davis played "Joshua" by Victor Feldman, these tunes weren't standards, they were the songs composed by their contemporaries. There are a lot of people writing excellent music, and it is great when you get a chance to play some of it. I've always enjoyed playing my friends' music."
The last piece on My Ideal also features a cameo by frequent boss Ravi Coltrane on "I'm Old Fashioned." Zaleski explains how this musical relationship's origins stemmed from being in the right place at the right time: "It was really just a chance meeting. He was putting a session together and contacted some friends of mine and said he needed a pianist to come over to his place to read through some new material. He also lives in Brooklyn, so I went over there and we played a little bit, and we didn't even really improvise all that much," Zaleski admits. "About four months later Ravi contacted me and told me he really enjoyed playing with me and asked me if I would like to do some shows with him.  That was probably about 5 years ago, and it is always a great experience to go on the road with his group."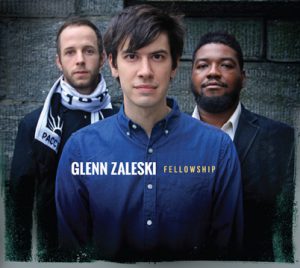 With the recently released Fellowship, Zaleski opted for a different approach for the material: "When I recorded My Ideal, I envisioned doing two records, one standards and one originals. We started with the familiar material on the first record. For the second I put together music that wasn't over composed, music that you could look at, get to the point rather quickly, and just get down to the playing."
This is apparent from the first listen of the newest recording, as the trio uses the material as a springboard for some exemplary improvisations, sounding assured in a three-way dialogue that suggests an increased affinity. Zaleski feels this is a natural progression as the group finds its own identify: "For the second date we had three gigs within a week of the recording session, which was great preparation. The three of us have played with each other numerous times over the years, just not as much as a trio, and the second session is after we really started getting comfortable together."
Zaleski's tour to support Fellowship will consist of numerous trio shows, and a handful of solo piano performances. Monday evening's performance at the Dunsmore Room will provide Zaleski an opportunity to try out the Fellowship repertoire without accompaniment: "I haven't done it much in the last few years, but it is something I really like to do," Zaleski mentions about playing solo. "On one hand I don't approach it that much differently than playing with a group, because I want to feel the same responsibility, which is to say enough of a backbone to isolate what I am playing so it can stand on its own if necessary. On the other hand, when I play solo I have an opportunity to be more experimental with forms and extremes of registers."
So how does a young musician on the road alleviate the tedium that sometimes accompanies travel days and the grind of hurrying to a destination, only to be forced to wait some more?  "Writing can be a really good thing to do when you are a travelling musician. As a pianist you don't always get to practice on the road and it can be dangerously unproductive, so I try to write as a means of being productive. It is a good way to keep your mind active, whether you are reading or writing music. I write music all the time, whether or not there is a record date coming up. I'm almost always writing and have accumulated a large stack of material." Judging from the impressive contents of his first handful of recordings, we can expect plenty more great music from Glenn Zaleski for years to come.
The Dunsmore Room is located in Crooners Lounge at 6161 Highway 65 NE (Central Av NE) in Fridley, just north of I-694 and about 15 minutes north of downtown Minneapolis. Reservations recommended at www.croonersloungemn.com