© Andrea Canter
Now on a steady upward trajectory on the Twin Cities jazz scene, vocalist Katia Cardenas celebrates her birthday in style at the Icehouse on Sunday, March 26th at 5 pm. No, it's not that big one– Katia is still under 30. But she has plenty to celebrate– her recent CD debut release, gigs at major local venues including Vieux Carre', The Dakota, Jazz Central, and Crooners Lounge, and some new songs. Her band at the Icehouse sports three young veterans — pianist Ted Godbout, bassist Graydon Peterson and drummer Zach Schmidt, along with further support from backup vocalists, Andrina Brogden and Sheridan Zuther.
Katia
Despite her still-young years, Katia Cardenas is already a veteran vocalist who as easily covers Ella Fitzgerald and Billie Holiday as modern folk, pop and blues. This is no surprise given her background in music since early childhood. Born and raised in the Pacific Northwest, Katia grew up in a musical family. Her mother, Janis Kelly, is an accomplished vocalist; her father, Mark Cardenas, is a professional keyboardist and Platinum and Gold recording artist (Prince, Morris Day and the Time, Janet Jackson).  In junior high, Katia moved to Sacramento, California, where she sang in select choirs, jazz and show choirs, and developed a passion for musical theater. At 16, she attended the Visual and Performing Arts Charter School, where she became deeply involved in music, theater, and dance. At 17, she began gigging with her mother's band, The Groove Ambassadors.
Katia relocated to the Twin Cities in 2006 to attend Macalester College, where she sang with The Sirens (female a cappella group), won first place in the Macalester Idol singing competition, sang in a rock and blues quartet, and a co-ed the a cappella group, Late Night Menu. After graduating with a major in Psychology and minor in Theater, Katia co-composed and directed an original a cappella musical (Zombie High School), which was named Best Musical at the 2010 Minnesota Fringe Festival, and began performing in duos and as a featured soloist around the Twin Cities. Specializing in jazz, soul, and R&B, and noting key influences as Aretha Franklin, Ella Fitzgerald, Carole King and Eva Cassidy, Katia is a performing member  (and Secretary) of the Twin Cities Cabaret Artists Network, tours with the Casablanca Orchestra,  and appears regularly at The Dakota, Vieux Carré, Crooner's, Jazz Central, and other venues. Last summer, she participated in and hosted the first Twin Cities Jazz Festival "Scat Off," which led to a weekly gig as "Jazz Alley" at Golden's Deli with Maryann Sullivan and Sarah M. Greer. Katia is also a board member of Face Forward: Humanity Through Art, a local non-profit that fosters a socially aware artist community through education and collaboration. She is a frequent host at Jazz Central's Vocal Jazz Night and works as a part-time administrative coordinator for the Dakota Foundation for Jazz Education.
The Band
Pianist Ted Godbout has been building a reputation as a sympathetic accompanist for area vocalists as well as a creative composer and bandleader. He holds a B.A. in Music – Piano Performance from St. John's University and an M.M. in Jazz Studies from the University of Oregon. Ted has performed with such notable artists and groups as Ron Miles, Mark Colby, and the Harry James Orchestra. Currently on faculty at Chaska Music Studios and Augsburg College, Ted leads his own trio and appears regularly with PaviElle, Katia Cardenas, BDP, Nick Syman, and the Bill Simenson Orchestra. Ted also serves as Director of Music at Shepherd of the Hill Presbyterian Church in Chaska, MN.
Graydon Peterson is a graduate of the University Wisconsin Eau Claire. His resume as one of the busiest bassists in the Twin Cities is long and wide, including backing many area vocalists and visiting touring artists, as well as leading his own Quartet and performing with Ghost Tour, the Adam Meckler Quintet, Firebell (with Jay Epstein and Park Evans), Doug Little's Charanga Tropical, and many other ensembles and big bands.
Drummer Zach Schmidt studied at McNally Smith with Dave Schmalenberger, Michael Pilhofer, Dave Stanoch, Marv Dahlgern and more. He works regularly with Cory Wong, Zack Lozier, Rachel Holder, Jana Nyberg and more.
A native of Fargo, ND, Andrina Brogden was a contestant on Season 13 of American Idol. She currently sings in the Casablanca Orchestra,"KoBro" (duo with guitarist Alex Kosak), and in a number of other local projects. She has recorded, performed and collaborated with numerous esteemed artists, including Jesse Larson, Dan Ristrom, and Kate Moore and The Blenders.
Sheridan Zuther returned to the Twin Cities to resume her solo singing career after seven years of touring throughout the U.S. and Canada performing with symphony orchestras and big bands as a member of the nationally acclaimed vocal quintet Five By Design; she has also taught vocal clinics and master classes in high schools and universities.  An opera-trained singer who covers a wide range of genres from jazz, R&B, pop, country & gospel,  Sheridan is an alum of the Cabaret Conference at Yale University and a founding member of the Twin Cities Cabaret Artists Network. She also teaches voice and beginning piano at her home studio and Interact Center for Visual and Performing Arts in St. Paul.
The CD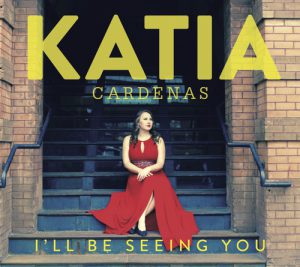 Last summer when Katia released her debut recording, I'll Be Seeing You, she was not concerned with  topping the radio charts or attracting attention from New York critics –she had less lofty, but perhaps more critical goals: "I was really searching for validation with this project… for documentation before moving on," she says. "This is definitely a landmark in my in my career –it's been a long journey to where I am now and I'm proud of it." Katia also wanted to capture the passion she has for her music in documenting her (ongoing) journey toward developing her own style. In recording an album of standards, Katia found it easier to connect with an older audience that's more familiar with the jazz and pop standards in her repertoire, noting that "it's been more challenging selling [this music] to a younger audience."  Including a broader range of music– drawing from more recent pop, soul and R&B tunes–has helped expand her audience at live shows, as has her work on song interpretation with local educators, Vicky Mountain and Sarah M. Greer, and her colleagues in the Twin Cities Cabaret Artists Network– "people who have experience in broad genres."
I'll Be Seeing You is all covers, but it's a wide range of tunes nonetheless, from jazz standards to Brazilian classics to American pop hits, from the opening "There Will Never Be Another You" which has been recorded by many from Chet Baker and Count Basie to Julie London and Rosemary Clooney, to the final title track covered by Billie Holiday, Jo Stafford and even Willie Nelson. Other tracks include Irving Berlin's popular "Blue Skies" with Katia's version of Ella Fitzgerald's famous (and long) scat; the double Jobim, bilingual medley of "Agua de Beber" (in Portuguese) and "The Wave" (in English); the dark pop medley of Carole King's "It's Too Late" hinged to Classic IV's "Spooky;" Phil Spector's "Baby I Love You" and Amy Winehouse's "You Know I'm No Good," the only song in this collection first released during Katia's lifetime.
Throughout the album, with her clean articulation, Katia convinces listeners that these songs, these lyrics, are important to her, and should be to the rest of us. While she says that "this [first] CD is not career-defining," it does succeed as a validation of her personal commitment to her music, as a document of her current skill and repertoire, as a launching point for what comes next. And what's next? Likely we will get some strong hints at the Icehouse this weekend.
The Birthday Gig
Notes Katia, "I have incorporated some new songs into my repertoire, including songs by Sara Bareilles, India.Arie, Donny Hathaway, and Carole King! While I will play some songs from the CD as well, I am excited to share these new tunes with you!" Her back-up singers are "both from North Dakota. They sing with me on some new songs that can only be done right in three-part harmony."
The Icehouse is located at 2825 Nicollet Ave South, just south of downtown Minneapolis on Eat Street. Tickets for Katia's birthday bash are available via Brown Paper Tickets at $8 in advance, $10 at the door; visit www.icehousempls.com for tickets; contact the Icehouse to reserve seating at 612-276-6523. More about Katia at www.katiacardenas.com